NEWS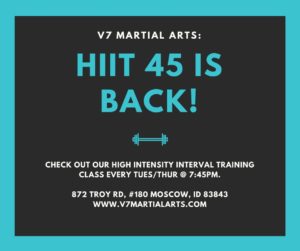 Our HIGH INTENSITY INTERVAL TRAINING class is back starting Jan 16,2018! Get in shape or boost your cardio and strength for BJJ or MMA in just 45 minutes. Classes every Tues/Thur at 7:45pm. 
Judo Kid's Program Belt Ceremony
December 6, 2017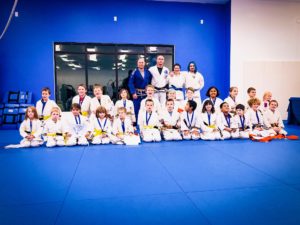 Congratulations to our belt recipients. Our students have been working so hard to progress take their Judo to the next level. We are very proud of each and every one of you!
Karate Tournament
December 5, 2017

January Seminars :Sidney Silva
We are pleased to host 3rd degree Brazilian Jiu Jitsu black belt and professional MMA fighter, Prof. Sidney Silva, at V7 Martial Arts! Gain new skills and expand your technique with our two day seminar.
Wed Jan 25th is No GI & Strike Defense on the Ground from 6-8pm. Thur Jan 26 is GI from 6-8pm. Each seminar is $50 or both for $80
Reserve your space today! (208) 596-4816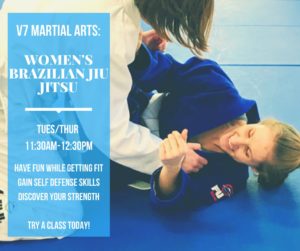 Check out our recently opened Ladies' Only Brazilian Jiu Jitsu class! During your lunch break, have fun while getting fit and gain self-defense skills. Classes are Tues/Thur at 11:30am-12:30pm.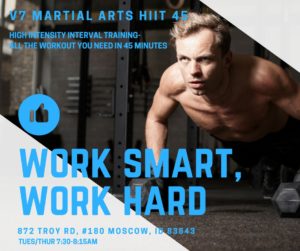 Starting August 29, 2017, we will offer HIIT 45 classes every Tues/Thur at 7:30-8:15am. Get a great workout with High Intensity Interval Training in just 45 minutes!
Check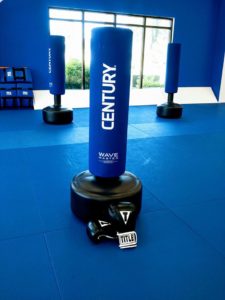 out our new Teen Kickboxing classes every Tues/Thur at 5:30-6:30pm! Learn striking, kicking, defensive skills, and much more. For ages 12-16. Try a free class today!
We also have Open Bag Training sessions for adults from 11:30-1:00pm Tues/Thur. Come in and use our heavy and kickboxing bags, training pads, and various MMA equipment at your own pace.  See you on the mats!
About V7 Martial Arts
V7 Martial Arts is a gym based in Moscow, Idaho that offers instruction in the disciplines of Judo, Brazilian Jiu-Jitsu, Karate and MMA, as well as offer cardio and yoga classes. We created our brand new facility with safety and comfort in mind.
Our Olympic approved impact control mats and top of the line equipment provide the proper environment to excel.
We developed a comprehensive program for Children, Youth, Adults and the Vision Impaired.
Our staff possess decades of experience within the Martial Arts world.
We provide classes in Judo, Brazilian Jiu Jitsu, MMA, Cardio Classes, Karate, yoga and more.
V7 Martial Arts
Thursday, January 18th, 2018 at 2:34pm
V7 Members, don't forget to check out our High Intensity Interval Training (HIIT) at 7:45pm tonight! Perfect for those in MMA & BJJ to enhance their physical fitness.
Take the class to:
-Outlast your competition.
-Build stamina while improving conditioning.
-Take your cardio to the next level.
-Get BJJ and MMA specific strength and endurance and more!
#hiit45
#hiit
#gofurther
#pushyourlimits
#mmaconditioning
#bjjendurance