News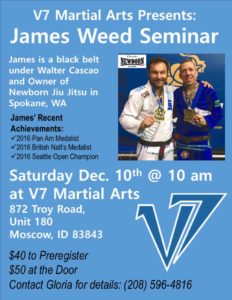 We are very excited to have James Weed, black belt and owner of Newborn Jiu Jitsu in Spokane, WA, conduct a seminar at V7 Martial Arts! Mark your calendars for Dec 10th at 10a.m. to attend. Cost is $40 to preregister and $50 at the door. For more details, call 208-596-4816.
Special holiday schedule for V7 Martial Arts: We will be closed Thanksgiving, Thursday Nov 24th. No classes on Friday, Nov 25th except open mats and free training for adult MMA and BJJ at 6:45p.m. Classes will resume as usual on Saturday, Nov 26th. We hope everyone has a wonderful Thanksgiving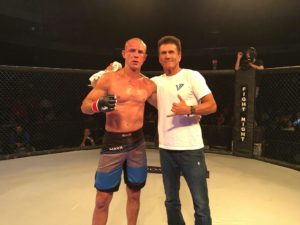 with family and friends!
Sensei Nicolae won his MMA bout on Oct 28 at Fight Night Medicine Hat 2, by armbar submission in just 3:38 of the very first round. Osu!
About V7 Martial Arts
V7 Martial Arts is a gym based in Moscow, Idaho that offers instruction in the disciplines of Judo, Brazilian Jiu-Jitsu, and MMA. We created our brand new facility with safety and comfort in mind.
Our Olympic approved impact control mats and top of the line equipment provide the proper environment to excel.
We developed a comprehensive program for Children, Youth, Adults and the Vision Impaired.
Our staff possess decades of experience within the Martial Arts world.
Parents, looking for a morning activity for busy youngsters? Judo classes are now available for ages 3-4 every Wednesday and Friday at 10:30a.m.! A great introduction into martial arts and a fun way to build balance, coordination, flexibility, and more. Come for a free class! #judokids #morningjudofunmoscow #v7martialsarts #pullmanjudo ... See MoreSee Less
2 days ago ·